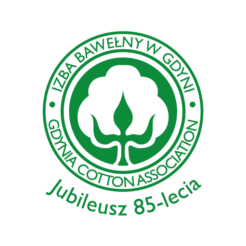 This year, the Gdynia Cotton Association celebrates the 85th Anniversary of its establishing. The Board of Directors of the Gdynia Cotton Association was going to invite you to joyful celebrations of this Jubilee during 28 – 29 May in Gdynia.
Apart from the Annul General Assembly of the GCA members, we planned to hold the Jubilee Session as well as gala dinner with music.
Right now, we would be about inviting you to these celebrations. At least in this way we would like to show our intentions and to inform you about the postponement of the celebrations of the Jubilee of the 85th Anniversary of the Gdynia Cotton Association.
We will commence sending the appropriate invitations when we set out a new date of the meeting.
The Board of Directors would like to invite, with the status of special guests, persons who have for many years supported our Association, promoted it, and have fought for its prestige in the international area, but minding the age of many of them as well as the rising epidemiologic threat – the Board of Directors have decided to postpone the celebrations of the Jubilee until early autumn, i.e. on the turn of September and October.
The exact day will be announced at a later date.
Considering, the dynamic development of the situation connected with the pandemic of coronavirus, we also consider the possibility to postpone the celebrations until next year – following the example of many other events around the world.
We would like to provide all the invited Guests with a celebration in the atmosphere of a safety and relaxation. We shall monitor the development of the situation and inform you on the current basis.