The Gdynia Cotton Association has joined many international, regional and local industry organisations around the world to be again a supporting organisation of ITMA 2019.
ITMA is the world's largest international textile and garment technology exhibition. It has been held – every four years – since 1951.
The upcoming ITMA – under the theme – 'Innovating the World of Textiles'- will be held from 20 to 26 June 2019 in Barcelona at Fira De Barcelona, Gran Via, Spain.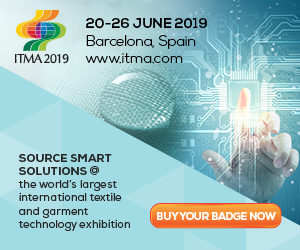 For more information visit www.itma.com
****
The exhibition has attracted over 1,600 exhibitors from 47 countries to showcase their latest technologies and sustainable solutions for the entire textile and garment manufacturing value chain, as well as fibres, yarns and fabrics. It is expected to attract visitors of over 120,000 from about 140 countries.
Visitors can source end-to-end solutions across the entire textile and garment manufacturing value chain, from raw materials to machinery and fabrics. Textile and garment manufacturing exhibit sectors include: Fibres, Yarns & Fabrics, Spinning, Winding, Testing & Software, Weaving, Knitting, Garment Making, Embroidery & Braiding, Nonwovens, Finishing, Testing, Logistics & Recycling, Printing, Colourants & Chemicals, Equipment for Plant Ops & Services, Research & Innovation In addition, a number of knowledge-sharing events will be held alongside ITMA 2019 to spotlight hot button industry issues, as well as promote networking. They include: Better Cotton Initiative Forum, Digital Textile Conference, ITMA Innovation Lab, Innovation Video Showcase, ITMA Speakers Platform, Research & Innovation Pavilion, ITMA Sustainable Innovation Award, ITMA-EDANA Nonwovens Forum, Planet Textiles , SAC & ZHDC Manufacturer Forum, Textile Colourant and Chemical Leaders Forum.