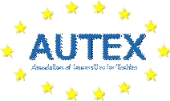 AUTEX was established in 1994 by a few courageous men and represents an association in which about 40 members (universities) from all over the world exchange information and knowledge about textiles and textile related matters at the highest level.
Education is key and related to education is research, guaranteeing that students optimally benefit from the latest developments in science and technology which make them ready for a leading role in the industry and society of the 21st century.
Today, research in all its aspects is to a large extent responsible for progress taking into account the actual needs for a sustainable growth towards a carbon neutral economy and sustainable future.
Since 2001, AUTEX organises an annual international / global conference in which the latest developments in the textile area are highlighted. Each year hundreds of participants take part showing the importance and impact of these conferences.
In 2019, the AUTEX Conference will be organised in GENT (Ghent), Belgium by the Department of Materials, Textiles and Chemical Engineering (MaTCh) from Ghent University. The venue is the NH Gent Belfort Hotel (downtown) for the whole duration of the event from 11 to 15 June, 2019.
At the same time, AUTEX celebrates its 25th anniversary, and "Textiles" at Ghent University will be proud to have covered an impressive 90 years!
During the AUTEX 2019 Conference the latest advancements in textiles (and clothing) will be under the spotlight and will show the dynamism and multidisciplinarity of textiles today. The title "Textiles at the Crossroads" speaks for itself.
Your participation as speaker or as participant is highly appreciated. Abstract submission from September, 10 – December, 31 2018.
We look forward to welcoming you in Ghent in June 2019!