Since the beginning of October this year, medium staple cotton (Upland) prices have remained in a relatively strong downward trend. Current price on the physical market, which are indicated by Cotlook A Index, dropped below 85 UScents/lb, whereas futures (price without freight, insurance, commission) for December 2013 – March 2014 lowered to the level of 75-77 UScents/lb. So, since the beginning of October, the prices lowered by ca. 7%. The market has already been supplied with deliveries from the new crop from the Southern Hemisphere and the record high world cotton stock has already reached the level of 20 mln tonnes. Cotton production in the season 2013/2014 will be 25,7 mln tonnes whereas consumption – 23,7 mln tonnes (the fourth subsequent season in which the volume of cotton produced exceeds the volume of its processing).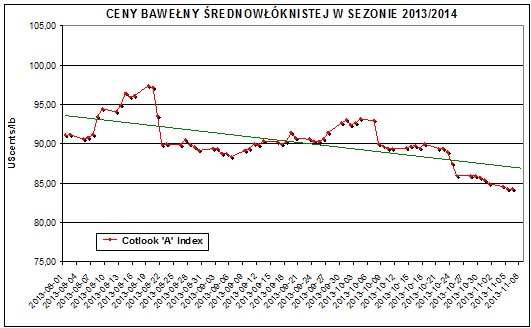 Quite different situation is on the market of extra-long/long staple cotton. Since the beginning of the season 2013/2014, the prices of export varieties of extra-long/long staple cotton have been rising very quickly. Since August this year, the prices of US Pima, Giza 88, Giza 86 have risen by ca. 20%. Right now, contracts for extra long varieties are concluded with the prices at the level of 190-195 UScents/lb. The reasons of the rise of prices of this cotton shall be seen as a great demand for fine and strong weaving yarns (possible to be made only from the long staple fibre), not a very high world production – hardly ca.470 thousand tonnes in the 2013/14 season, and as the fact that the world long staple cotton stock does not exist, practically. Manufacturers of high quality cotton yarns and fabrics in China, Far East, and Turkey are anxiously waiting for supplies of American Pima, whereas the Indian recipients dominated exports of Egyptian Giza.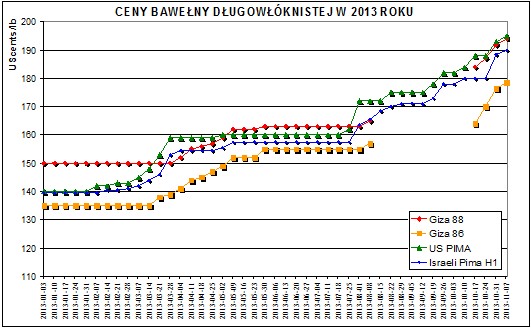 The relation of ELS prices to those of the medium staple cotton reached in November the value of 2,3 – against the usual 1,8-1,9 level.
Andrzej Drozdz